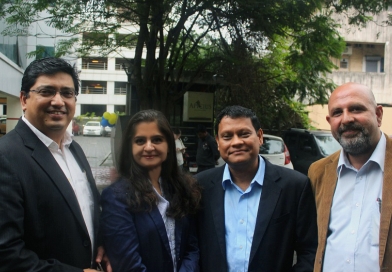 Paathshala Learning Solution Pvt Ltd was conceptualized and setup in 2012 by a set of highly successful professionals from the corporate world with a simple belief, that true learning is possible only when it touches the core belief system of the individual.
Over the last six years we have developed an end to end expertise right from strategy consulting, program research, design, development, delivery, program management and learning technologies. We are uniquely positioned with our innovative and cutting edge learning technology platform at the core and a plethora of services supporting it.  Our products and services include,
International Partnership
We are the India partners to internationally acclaimed, Café Style Speed Training, an UK based training and development organisation.
Learning Technologies - M²OST
The core of our business strategy, we have developed & copyrighted M²OST (Massively Mobile Online Skill Training) platform. This platform is an innovative & disruptive mobile application based learning and development aggregation & distribution platform. It has LMS / LCMS, performance management and employee engagement functionalities that makes it a single window solution to all learning technology platform requirement any organisation may have.
Strategy Consulting
ROI forms the core of our strategic consulting offering. Through our consulting services, we have a proven track record of helping organisations set up the following strategies,
Learning & Development Strategy
Talent Development & Management Strategy
Performance Management Strategy
Organisation Vision & Mission
Embedding Organisation Values
Instructional Design & E-Learning
We have proven expertise in providing instructional design and e-learning module development. Right from conducting studies, content research, content design and developing content in conventional formats or e-learning and mobile learning formats, we have in-house expertise to manage the end to end project.
Program Delivery
Our core approach towards all our programs is the Appreciative Inquiry Methodology, where we have successfully managed to bring about culture transformation at both, individual and organisation level. We have delivered short as well as long-term program journeys for our clients in various formats; Classroom, Outbound, capsule workshops, train the trainers etc.
Resource Outsourcing
We can provide trained resources right from content developers, instructional designers, trainers/facilitators, training administrators and managerial levels on contractual basis.
Our Clients
Over the last six years, we have successfully partnered with clients from a cross-section of domains covering Banking, Insurance, IT, Ports, BPOs, NBFCs, Retail etc. Some of our key advocates are organisations such as Deutsche Organization, SBI Life, Amdocs, GEP, WNS, DP World etc.