Transformations are always associated with journeys and realizations. Asking the right questions to the right people has always aided our designs for culture transformation. A much talked-about topic,  "Values and Their Association with Behaviour" piqued our interest.
How are organizational values perceived by an employee?
We discovered that most of the time, organizational values are considered abstract ideas that remain distant from the day-to-day functions of an employee. One of the factors is a mismatch between the employee's personal values and the collective values of the organization they work for. To add to the conundrum,  the 'how and what' of organizational values is unclear in an average employee's mind. This leads to a negative impact on employee behaviour resulting in loss of productivity and high attrition rates. On a mission to transform this 'abstract idea' into a tangible one, we designed The Values Journey.
How we go about it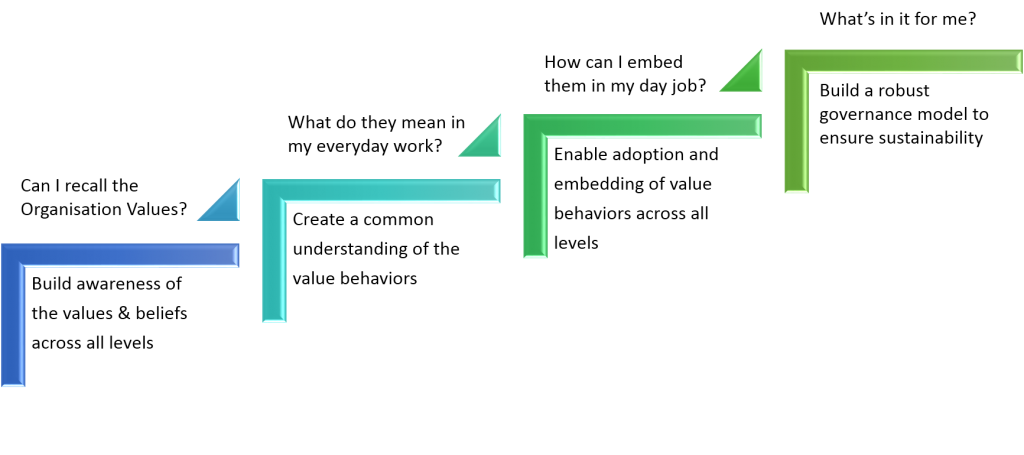 Every cause needs a champion. This program has been designed to make everybody at each level of the organization, a part of this journey.

We use the Cafe Style methodology to embed the values at the belief-level of the employees. The interesting activities and experiential learning provide a holistic solution.

Why take this route instead of another
There are several benefits of embarking on the The Values Journey
Breaking the monotony: It is time to let go of the "being trained to overcome weaknesses" thought process and replace it with a positive "let's develop strengths"

Auto assimilation: The activities within the program are designed for group learning which leads to effortless and effective assimilation

Self sustainability: Creating self sustainability gives us immense satisfaction. All power to you!

Informal discovery: The best kind of learning happens without knowing that learning is happening
A successful journey
"I must acknowledge and thank you for helping build our 'DB Culture' at India in such
an engaging & impactful manner. While conceptualizing our transformation journey,
we believed that a change in the operating language would be the only cause in the matter of change in behaviors and change in the overall culture of the organization.
And what better way to change the language than, to embed the new language in
every coffee conversation!
Cafe Style learning sessions, 'Value Cafes' as we call them, have become 'a rage' and
'a buzz' across all locations in India for multiple reasons. Besides being fun and easy to
conduct, they tap into each individual's experiences and wisdom, leading each one to
own and drive the change.
Thanks to you and your team for customizing the learning material for us, and
preparing more than 100 champs facilitating these sessions through the year. Looking
at the ever increasing repository of success stories, rewards for exemplary behaviors,
and the dial movement on People Survey Scores, we're convinced that our Value cafes
are here to stay."
Dr.Parul Pandey – Director Organisation Development –
Deutsche Bank Global Services
Curious about further details? Leave us a message here.
Got all the values in place? Brilliant! Now join us in exploring the DevOps culture (hyperlink).