Masti – A Women Entrepreneurship Program!
Every woman is a potential entrepreneur because managing a household is similar to running a small business. There is a knack for managing within a fixed budget and  meeting demands by optimum utilisation of resources. One sector that is in dire need of entrepreneurs is early childhood education (ECE).
Nearly 160 million children are in the age group of one to six years in India. Nearly 15 million pre-school teachers are required to educate the very young population but, not many trained early childhood professionals are available.
UNICEF India states the following about early childhood education:
Evidence indicates that Early Childhood Education (ECE) programmes can "change the development trajectory of children by the time of entering school". Research in the South Asian region, particularly in India, has documented the effects of Early Child Development programmes on the academic and social preparedness of children for formal schooling.
It is evident that impact is required at a large scale. Masti has been designed to achieve three things,
Empower educated women by providing a one of a kind business opportunity that helps them set up a playschool conveniently in the safety of their homes.
Aiding the process of establishing widespread early childhood education in India by facilitating Ghar Ghar Mein Paathshala.
Increase workforce participation of women in the economy.
The Masti curriculum has been created with a lot of care. After  extensive research on child development, five key tools have been  indigenously designed that the program uses to ensure that children feel a joyful environment and look forward to learning new things everyday.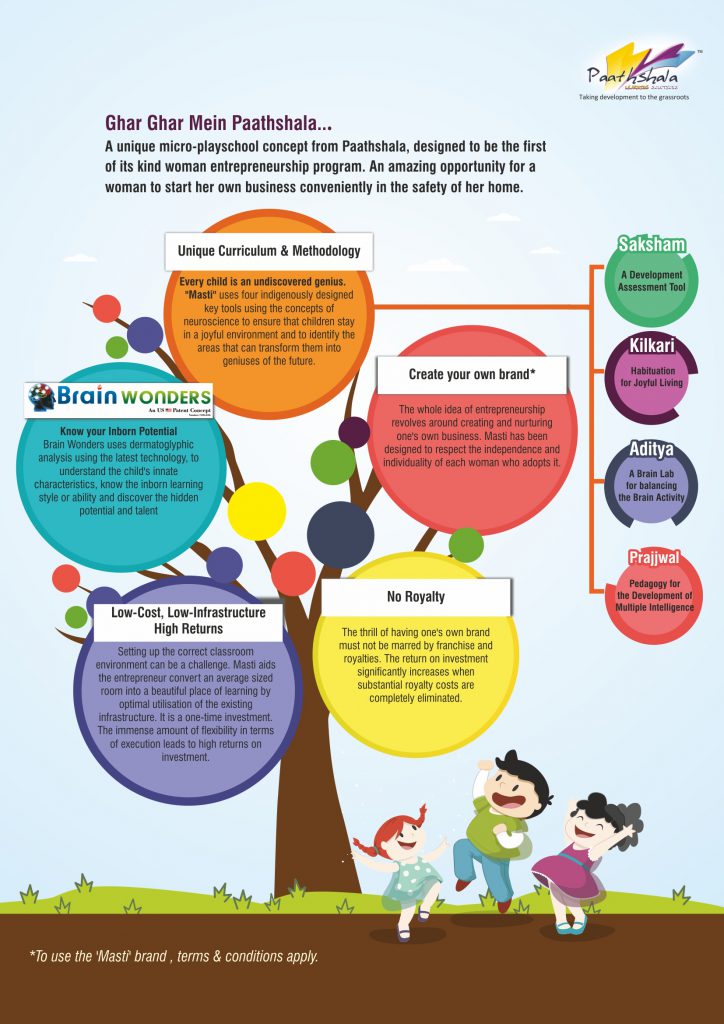 Masti is a women entrepreneurship program that operates on a 'No Royalty' model. The thrill of having one's own brand must not be marred by franchise and royalties. Moreover, the return on investment significantly increases when royalty costs are completely eliminated.
One time payment, no hidden costs
5 days classroom training
1 year - 12 sessions - virtual training support
Certification in DMIT  through strategic tie-up with 'Brainwonders' - Leading brain mapping organisation in the country
We strongly recommend the Post Graduate Diploma in Pre-primary Teachers Training (PGDPTT) offered by Symbiosis Centre for Distance Learning, recognized by UGC Distance Education Bureau (DEB), as it will help you to stand out from the crowd, add credibility to your knowledge and prepare you for your future career in the early education sector. Visit Symbiosis Centre for Distance Learning (SCDL) website, www.scdl.net for PGDPTT program details.
Excited about setting up your own business? Contact us here and become a part of an education revolution!